As a youngster, Simon played all of his minor hockey in his hometown, Sainte-Foy and as a 15 year old, Gagne played for the Sainte-Foy Gouverneurs (Patrick Roy once played for them during the 1988/89 season) in the QAAA for one season in 1995 and was instrumental in the teams success as they won the 1996 Air Canada Cup, Canada's National Midget Championship.
He was selected 10th overall in the 1996 QMJHL draft and was 16 years old when he broke into the QMJHL as a member of the Beauport Harfangs during the 1996/97 season. Playing mostly on the third and fourth lines, he ended up finishing with 31 points (9 goals and 22 assists) in 51 games. Beauport, who were based in the Quebec City metropolitan area, moved back to Quebec City for good in 1997 after the original Remparts folded in 1994, and then once again, Quebec would have junior hockey back. The team claims the history and records of the original 1969-founded Remparts.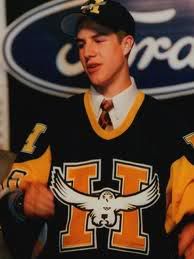 Simon would end up having two successful seasons in Quebec, totalling 189 points (80 goals and 109 assists) in 114 games, including a 120-point season in 1998/99. That year, he finished sixth in league scoring, was named to the QMJHL Second All-Star Team and was awarded the Paul Dumont Trophy as 'personality of the year'.

Debuting internationally with Team Canada at the 1999 World Junior Championships in Manitoba and as playing as the host country, Canada made it to the gold medal game against Russia, but lost in overtime to earn silver. He scored 7 goals (and tied a team record of 4 goals in 1 game - Mario Lemieux had done the same at the 1983 WJC) and an assist in 7 games to finish second in team scoring.

Gagne also recorded 20 goals and 13 assists for 33 points in 25 career playoff matches with the Remparts. After the 1998–99 season, Simon graduated to the pro ranks, and the Remparts retired his #12 jersey during a ceremony early on in the 1999–2000 season. He joined Hockey Hall of Famer, Guy Lafleur as the only two players that have had their jerseys retired by the Quebec Remparts (Alexander Radulov's number has also since been retired by the Remparts).

Simon's father, Pierre Gagne, attended the Philadelphia Flyers first ever training camp in Quebec, which is where he met and befriended former Flyer Simon Nolet. Simon Nolet, as you may know, is a scout for the Flyer organization, and it was largely on his advice that they selected young Gagne last year at the draft. Nolet's status as a family friend meant he had ample opportunity to see Simon's development into a premier young prospect, but the decision to draft Gagne was based on more than friendship.

Scouting report
An effortless, shifty skater with good acceleration and a quick change of pace ... a smart player who is very clever with the puck ... he is an unselfish player who effectively creates opportunities for his teammates ... he is creative with the puck and possesses natural scoring instincts ... he is always around the puck and is excellent in one-on-one situations ... is used in all game situations ... he is a good checker, although he is not considered a physical player ... he positions himself for transition of play ... a good competitor with strong desire and an excellent attitude towards the game.

Simon was ranked 15th on the CSS Mid-Term report, (see above for his scouting report) his final ranking was 17th but a broken finger suffered in the final season before the draft may be the reason why he was still available at the Flyers' pick, number 22, in the 1998 NHL Entry Draft.




1999/00

He made the Flyers roster out of training camp prior to the 1999/00 season after most critics estimated he was heading back to juniors. His first professional NHL goal came four games into the season on October 12th 1999 at the Washington Capitals, assisted by Mark Recchi and Eric Lindros on the Powerplay. In the same game, he put the puck past Olaf Kolzig for the second time. Both goals came in the first period. Unfortunately, his two goals were not enough as the Flyers fell 5-4.

His rookie season saw him play primarily at center and go on to score 20 goals and 28 assists in 80 games, good enough to be named to the NHL All-Rookie Team.

The Flyers qualified for the Playoffs and Gagne chipped in with 5 goals and 5 assists in 17 games before the Flyers (minus Eric Lindros due to another concussion caused by Scott Stevens) lost in seven games to the New Jersey Devils in the Eastern Conference Finals who in turn, went on to win the Stanley Cup.

2000/01

Simon followed on from his impressive rookie season and in 2000 he was showing signs of becoming a great two-way player in the NHL. A skill that every team loves to have in a player. He was moved from center to wing by coach Craig Ramsey, playing on a line with Mark Recchi and Keith Primeau. Gagne also took part in his first All-Star Game scoring 2 goals which included the GWG in a 14-12 win for North America. It has been rumoured that Gagne has stated that playing alongside his idol, Joe Sakic, at the All-Star Game is one of his greatest memories.

Philadelphia went on to qualify for the Playoffs again, but bowed out to the Buffalo Sabres in the 1st Round. Simon jumped to 27 goals and 32 assists in 69 games in his sophomore year. To add to his growing list of accomplishments, Gagne was awarded the Pelle Lindbergh Memorial for 'most improved player'.

2001/02

2001/02 saw him score 33 goals (first time in his career) and tally a career high 33 assists in 79 games. His +/- stood at +31, which is also a career high (tied with 2005/06). The Toyota Cup was awarded to Gagne for the Flyers' most three star selections.

Simon would make his senior debut for Team Canada at the 2002 Winter Olympics in Salt Lake City, scoring 4 points in 6 games helping Canada to their first ice hockey gold medal in 52 years beating the host country, United States, 3-2.

2002/03

A nagging groin injury limited Simon to just 46 games and saw career lows in goals, assists and points.

2003/04

This was the season where Simon would ultimately become my favourite Flyer. Trailing 4-3 in the 3rd period to the Tampa Bay Lightning, and 3-2 down in the Eastern Conference Final series, Keith Primeau tied the game with under 2 minutes to remaining. Gagne, already with one goal, scored the OT GWG 18:18 in to win the game and send the series to a Game 7 back in Tampa Bay.